In March 2016, a new book written by members of the Medinge Group will be published by Kogan Page
The idea for the book emerged from a desire to showcase the winners of the Brands with a Conscience award, but it has evolved and now includes other examples as well. The main motivation for writing the book was to use the stories of conscientious brands to establish a model that can inspire other organizations.
The core theme of the book is that organizations have a broad responsibility to all their stakeholders, including citizens. The understanding of this principle is well documented and has grown as stakeholders have seized the opportunity to participate.  Our argument is that a brand is created together with diverse stakeholders for the benefit of the organization, its stakeholders and society. When organisations recognise this – as brands with a conscience do – then corporate social responsibility becomes embedded in the organization.
Reflecting the diverse membership of the Medinge Group the cases cover a broad variety of industries and geographies including Tata Steel, Dilmah Teas, Merci, Dr Hauschka, the John Lewis Partnership and the Slow Food Movement.
Brands with a Conscience
Edited by Nicholas Ind & Sandra Horlings
Table of content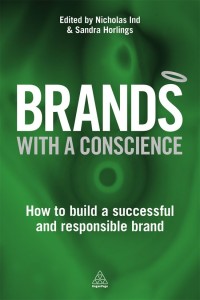 Foreword and introduction by Ava Maria Hakim
17 brands; Successful and Responsible

Dilmah Tea: Business is a matter of Human Service by Jack Yan

Star for Life by Annette Rosencreutz

John Lewis Partnership: Partnership for all by Erika Uffindell & Simon Paterson

Influence at Adidas by Nicholas Ind

Dr. Hauschka: Healthy business by Brigitte Stepputtis

Alqvimia: The energy that will save the world by Guiseppe Cavallo

Merci Paris: What destiny for this lifestyle design concept store? by Phillippe Mihailovich

H&M: Sustainable fashion by Brigitte Stepputis and Thomas Gad

Tony 's Chocolonely: Crazy about chocolate, serious about people by Sandra Horlings

Lovechock: Happiness inside by Sandra Horlings

Slow Food Movement: The case for Eco-gastronomy by Peter Brown

Vegetalia: Nourishing Life by Guiseppe Cavallo

DNV GL: Back to the Future by Nicholas Ind

Unilever the Green bond by Nicholas Ind

Cosentino: Conversations carved in stone by Cristián Saracco

Tata Steel: Building a caring organization by Horo Sudhir

Handelsbanken: No targets, no budgets and little marketing by Simon Paterson

About Place branding:

Branding the Life while growing the place by Nikolaj Stagis

Big on Life on Cork by Malcolm Allan

How to be a brand with a Conscience Exploiting leadership to betterment of the world by Enric Bernal
Now… how to build a Brand with a Conscience by Oriol Iglesias and Nicholas Ind
About the cover
The artwork on the cover is based on a painting by Phil Dobson, a London-based artist and member of Medinge Group.
To pre-order the book, click here!