CSR meets Marketing; it pays off
Sustainability doesn't sell? But that's what Unilever is after.
Repetition is the power of advertising. It's the thought that comes to mind when CSR-managers and Marketers meet up for the second time in two years. The initiative, to organize this meeting of the minds, comes from the Dutch Marketing Association and MVO Nederland, a centre of excellence for Dutch small and medium enterprises striving towards corporate social responsibility. Last year, the centre announced that 'sustainability doesn't sell'. The theme pushes Unilever to host this second dialogue session between CSR managers and marketing managers. Unilever, attracts many by 'selling sustainability'. – a focus that emerged with the publication of their Sustainable Living Plan in 2010. The ambition stated in the plan was to double growth while halving their environmental impact.
It's a tough challenge; to engage customers in their ambition to become a more sustainable business. In this dialogue focus is on the HOW. How do brands and business make CSR relevant for customers?
In our first dialogue in 2015, the conclusion was that CSR and Marketing find each other through the customer and the brand. And it shows. Both Unilever and Rabobank (the other case presentation this year) have made progress in this area.
Bart Brüggenwirth, co member of the board of NIMA World marketers – the organizing party-  kicks off with a positive message. According to recent consumer survey (Dossier Duurzaam) there is a growing interest and awareness for sustainability. The majority of consumers understand the necessity for sustainable and responsible business.
It can be done. But it's a long haul.
Anniek Mauser – Sustainability Director for Unilever Benelux – responds. On behalf of Unilever she shares the impact of this global player on the world: with 400 brands, 150 million sales per day and over 1 billion products used per day, leading this giant into Sustainable Business is a huge challenge. Still, ever since the publication of the Sustainable Living Plan in 2010 this multinational has made really good progress. They are well on their way with 80% of the plan – improving the life of 482 million people worldwide by increasing healthy living and well-being.
However, Unilever is facing two large challenges. Because the biggest gain for the world (and the company) comes from engaging us as consumers. to buy more sustainable products and use them at home in a sustainable way. 60% of the global impact Unilever has, comes from us: heating water for washing ourselves, our clothes and our dishes. To change our behaviour, Unilever follows five levers of change. "Our goals can be achieved, but it's a long haul", shares Mauser.
Next to changing consumer behaviour, the other challenge comes from collaboration in the value chain. It's Unilever's second big challenge. Although they seem to be doing rather well in improving their own production chain, the proceeds from the value chain are not shared. Progress on the goals for reducing waste, water and CO2 lag behind. And on CO2 reduction the effect is opposite: Unilever's doing worse than before. "Of course, that's the key question in every debate. Despite the progress we're making, the debate is about: why are we not succeeding in stopping and turning this trend?", Mauser says. Unilever's goals are ambitious. And urgent. But she knows that success comes from success; people in the organisation and around it want to work together on things that can be achieved. Energy flows from success, not from failure. And that's what people want to be a part of.
"The Unilever way of Marketing" comes in helpful, from this perspective. It is presented by Helger Reitsma – Marketing Director Mealsolutions & Asian Foods. It is a distinctive approach to marketing their products and contains three building blocks:
People come first
Build Brand Love
Unlock the magic
We build brands for people, with people, by people. Which means marketing and sustainability meet where people come first.
Reitsma says, we are very thoroughly insight mining amongst our customers and opening up to other stakeholders. Our Brand Love Key summarizes the choices made. It is an updated version of the much copied Unilever Brand Key. It describes the customer insight and purpose for the people we serve and also the contribution the brand makes to the Unilever Sustainable Living Plan. The brands that deliver value for the plan and have (a range of) credentials products that support this, are being called Sustainable Living Brands. Right now Unilever identifies twelve of these brands (out of 400). But the value they deliver is impressive:
These brands grow faster compared to 2014
They account for 50% of Unilever's growth
They grow 30% faster than the rest of the business
Telling 1000 little stories
Noortje Goethals – senior brand manager Knorr – explains how Knorr – bouillons, sauces, seasonings and soups, tells 1000 little stories about how sustainable the brand is. That a Spaghetti Sauce contains tomatoes is not obvious for many consumers. Let alone that tomatoes get more tasty when you don't water them every day. Which doubles on the sustainability goal to decrease water usage. These little stories help consumers appreciate, in a funny and easy to understand way how Knorr is becoming more and more sustainable. And that sets off creativity amongst the Marketers and CSR managers in the room.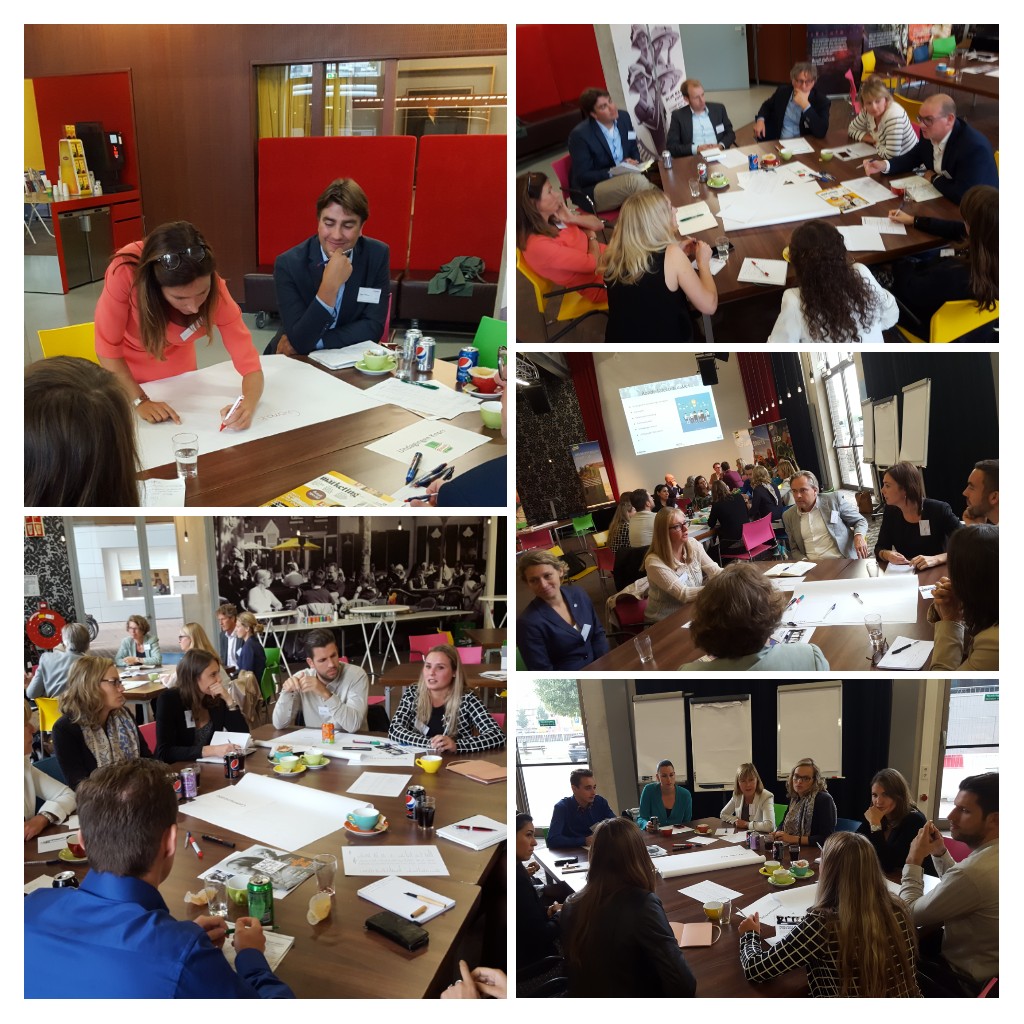 Rabobank supports its clients
Rabobank, a Dutch cooperative bank, takes another approach to more responsible business. There is a growing customer base delivering more sustainable products and/or transforming to a circular economy. Let's say: they are slowing, narrowing or closing resource loops. And actually decoupling economic growth from material use; a basic starting point in Unilever's Sustainable Living Plan and a framework that is being developed and made applicable at the University of Delft (by Nancy Bocken and others).
Rabobank includes frontrunner customers in this thinking. Marin Boon, banker and a good steward for the world explains how. Rabobank policy derives from their deeply rooted principle that companies that already embrace and act upon the need for sustainable business are the winners of today. And tomorrow.
It reminds me of a quote from Barack Obama, made about 8 years ago:
"There are only two kind of car companies: those that sell hybrid cars and those that will."
It gives us a head start
Rabobank's approach builds on sharing knowledge, building the network and developing products that help build sustainable business.
Share knowledge
Rabobank makes a sustainability scan, a photo if you will, of their customers. It's a great tool to start an intensive dialogue with their customers. The method is developed by DHV and Erasmus RSM.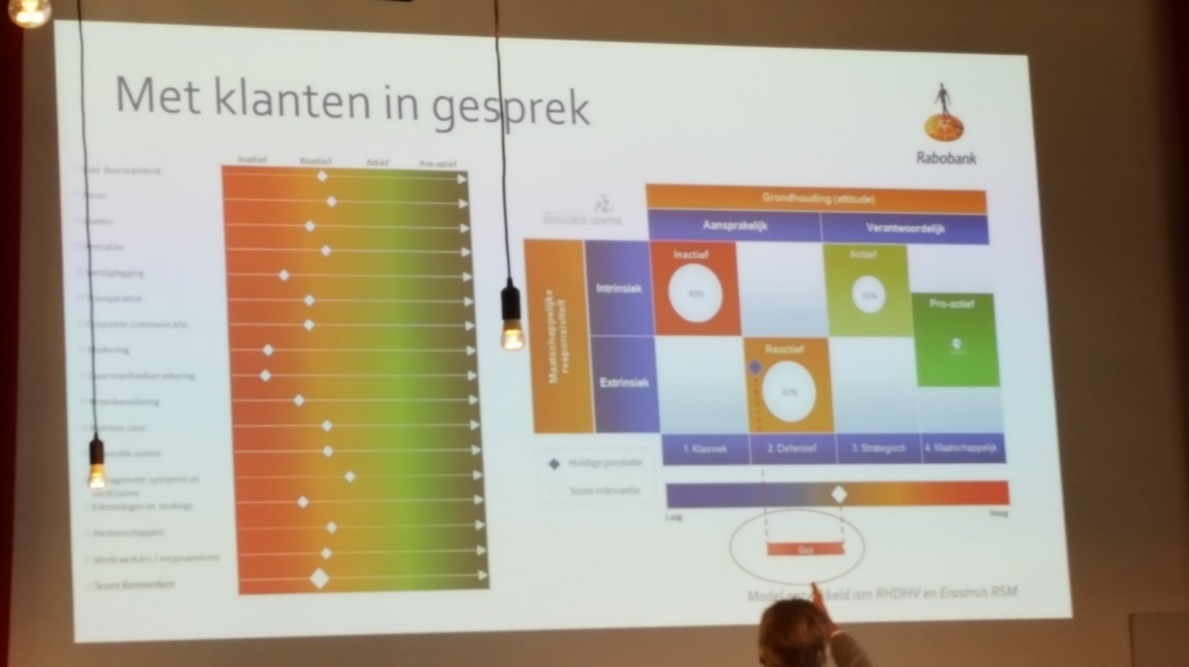 It seems to have its roots in Dunphy's Scale*, reduced to four types of clients, according to their basic attitude towards sustainability. Clients are classified as having a classic, defensive, strategic and societal attitude. It is interesting that the scan builds on public information. And compares clients to their competitors. It's an eye-opener for some clients. Although they think they are really acting in a sustainable way, the scan shows otherwise, which helps them to rethink their business or their communication strategy.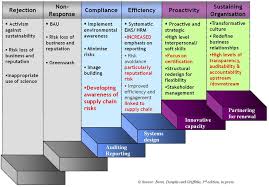 *Dunphy's Scale was published in Organizational Change for Corporate Sustainability (2003). It consists of six phases; increasing the way that the organization embraces and profits from sustainability.
Build a community
Rabobank invites its customers to join the CE Challenge. It's a creative process that helps transform their business into a circular business. With entrepreneurs challenging and helping each other overcome barriers and embrace change. Hugely successfull when three – strangers before these shared session – develop a new circular concept (for which Rabobank offers to arrange the loans, needless to say). It is truly a cooperative approach.
Value Propositions
This approach also leads to new value propositions. Rabobank was the first in the Netherlands to launch Impactloans. Instead of having the government stimulate sustainable finance, Rabobank is in the lead. Companies that deliver proof of positive societal impact profit from a interest rebate.
If you want to go far, go together
In 2015 the take out from this meeting of CSR and Marketing Minds was that the customer and the brand could leverage marketing sustainability. And it shows. Both Rabobank and Knorr deliver proof that collaborating and sharing expertise pays off. Which inspires the debate in our meeting. And leads to some additionals insights. For Knorr, Rabobank, and maybe for your brand as well:
Sustainable Innovation pays off. Urgent need for change and a strong belief in humanity build the case for sustainable innovation and it gets the creative juices flowing. People can come up with smart, bright ideas and a solid business case.
Engaging and collaboration is key. Show and tell is the key message here. By sharing great examples up close and personal, it will be easy for people to connect. And respond to questions about their own commitment. A learning from Rabobank is shared; they balance between seduction and obligation: make it attractive to join and easy to adapt.
Be relevant in communications:
Sustainability will not be the key driver in consumer communications. Insights, needs, wants still drive the functional and emotional benefit for the customer. That's what makes them tick. It calls for improving the customer experience. Over and over again
The group debates about b2b communications. The benefit becomes more rational. Or at least more transparent. And that may be the key driver in the value chain to enhance collaboration and sell sustainability. It gets you to the table, as a strategic partner in the value chain. The approach from Rabobank may be copied here: a smart analysis of your customers' image is the key for a sales pitch.
Sustainability does sell.
It can be done: sustainable value propositions do sell. But it needs careful packaging. It all starts with the customer. And their needs. Because anyone that understands customer insights, knows how to attractively position sustainable products. After all, that's the art of marketing. (You may be in for the long ride, so long term goals will be helpful). That maybe the most important lesson to take home from this session.
What do you think?