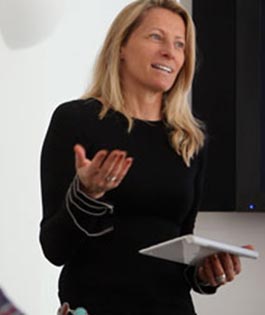 Name + Mail
Erika Uffindell |
Current Company + Web
The Global Centre for Conscious Leadership | www.gcfcl.com
Location
 London, UK
Key expertise
Conscious consultancy, coaching and facilitation.
Leadership, Strategy, Brand, Culture
Years of experience
More than 25 years
Scope of experience
International experience – Europe, N.America, Asia Pacific.
Corporate – all sectors inc; Financial Services, Professional Services, Education, Manufacturing, Hospitality.
Previous companies
Uffindell Group.
Pinea3.
Key clients
RBS, Huntsman Technologies, Tata Steel, HSBC, Deutsche Bank, Ameriprise Financial, Saks Fifth Avenue, Bond Dickinson, Aviva Investors, Threadneedle Investments, Grosvenor Properties.
Academic activities
Organizational Systemic Constellation.
Equine Facilitated Learning.
Books, Articles
Range of articles in vertical market press.
Education
 BA Hons.
Speaking
Conscious Business.
Conscious Leadership.
Conscious Capitalism.
Conscious Branding.

Erika Uffindell