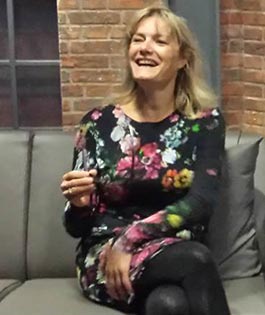 Name + Mail
Sandra Horlings |
Current Company + Web
Innoboost | www.innoboost.nl
Location
The Netherlands.
Key expertise
Innovation, branding and marketing strategist, on how brands deliver; in offer and behaviour.
Years of experience
More than 25 years.
Scope of experience
Corporate – all sectors inc; Financial Services,Telco services, Professional Services, Healthtech, Manufacturing, FMCG, Fashion, Tourism.
Previous companies
 Proximity BBDO, Managing director Amsterdam.
Marketing Workouts, founder and trainer.
Key clients
Ziggo (Liberty Global), Philips, TNO, Quby, Ostrica, Terratravel, Maastricht Bereikbaar, Gillette, Shell, Google, Dove, KPN…
Books, Articles
Brands with a Conscience (in progress, 2016)
Building the gap between branding, sustainability and consumer demands (2009)
Education
BA Communication.
Innovation.
Speaking
Rethinking branding.
Meaningful marketing.
Wonderful colours of Desert.
Sandra Horlings