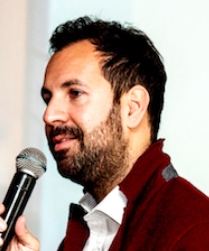 Name + Mail
Christopher Spall |
Current Company + Web
Spall.macht.Marke Brand Identity Consulting | www.spallmachtmarke.de
Location
Germany.
Key expertise
I turn identity into attractiveness by developing  distinctiveness into strong brands.
Years of experience
More than 15 years.
Scope of experience
Brand Identity development for people and companies for effective personal branding, corporate branding and employer branding.
Previous companies
Allianz, Commerzbank, Brand Trust.
Key clients
Hidden champions, from world market leader in the chemicals industry to wine making region, everyday brands like REWE Group, family-owned businesses with up to 4 generations of history, cult brands like Almdudler, intriguing personages.
Books, Articles
Author of "Personal Branding" (Springer Nature, 2019).
Co-author of "No.1 Brands" (Orell Füssli, 2013).
Guest author and interviews for the Handelsblatt, one of Europe's top business newspapers (since 2012).
Education
Master of Business Administration.
Speaking
Key note speaker for the world's leading CEO network Vistage International (www.vistage.com).
Topics: The Identity Code / Virtual Brand meets Personal Brand: How to become unmistakable online and offline / Strong brand "Me": What makes people into brands / Brand management for SMEs: 6 practical tools for an attractive corporate brand / Personal Brand meets Artificial Intelligence.
Christopher Spall